Oldtimer picture gallery. Cars. BMW-320.
---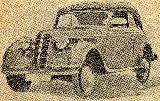 BMW-320


Years of production: 1937 - 1938
Overall production: 4185 units
4x2 4-5 seat, 2-door 4-light limousine, cabriolet B
Engine: BMW 320/45 - 45hp/3750rpm, 6-cyl 4-stroke OHV, 1971cc
Length: 4500mm, width: 1600mm, height: 1600mm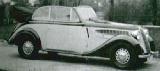 Wheelbase: 2750mm, clearance: 200mm
Front wheel track: 1160mm; toe-in: 0-2mm; camber: 1o30' - 2o; caster: 2 - 3o
Rear track: 1300mm
Turning radius: 6.5m
Bore/Stroke: 66/96 mm
Pistons type and material: MEC, aluminium alloy LegEC-124
Cold clearance between tappet and valve stem: intake - 0.3mm, exhaust - 0.3mm
Compression ratio: 6:1
Carburettor: Solex 30 BELV
Dimensions: diffusor - 23mm; main jet - 112.5/58 in conditional units; idling jet - 0.45mm, starter mechanism jet - 160 in conditional units
Ignition system: battery (Bosch, 6V), battery capacity - 77 A*h
Interrupter-distributor type: VF6/BR-322; contact clearance: 0.4 mm, rotor turns clockwise
Generator type and power: RG90/6 1500RST
Starter type and power: BCG0.5/6 RS28; 0.5hp
Spark plugs type: DM175/1; 18mm; electrode clearance: 0.6 - 0.7 mm
Cylinder firing order: 1-5-3-6-2-4
Clutch: dry single plate
Clutch pedal clearance: 20-30mm
Gearbox (by Hurt or Zahnradfabrik): 4 speeds
Ratios: I - 3.70, II - 2.21, III - 1.57, IV - 1, rear - 3.70
Differential ratio: ?, bevel gear with spiral tooth
Front suspension: independent
Rear suspension: whole axis on torsion shafrs or on 2 longitudinal semielliptical springs
Hydraulical all-wheels shoe brakes
Normal flexure of ventilator belt: 20mm
Weight: 1100kg
Maximal speed: 115 km/h
Climb: 40 degrees
Tyres: 5.50-16 inches
Tyre pressures (atmospheres): front - 1.8, rear - 2.0
Fuel capacity: 50 L
Fuel consumption: 9.5 L/100km
Cooling system capacity: 7.5 L
Oil carter capacity: engine - 4.0 L; gearbox - 0.75 L; differential - 1.25 L
First 65k b/w BMW 320 Cabriolet is from Yu.A.Halfan's book:"Description of foreign firms cars construction", Moscow, 1948. Seems this unusual panoramic windscreen is original.
Second 12k BMW 320 Cabriolet is from the book "A-Z of Cars of the 1930s" by Michael Sedgwick & Mark Gillies, Bay View Books Ltd.
BMW-320 differs from BMW-321 by more narrow front wheel track and by another direction of doors opening.
---
If you have to add, ask or correct me, you are welcome to write me by E-mail Contact. Andrei Bogomolov.
---
Entrance   Gallery   BMW cars   Sale   Links
---
Last updated 3 III 1999.