Oldtimer picture gallery. Cars. Adler Typ 10 "Stromform" ("Autobahn").
Attachment page with WW2 photos is here.
---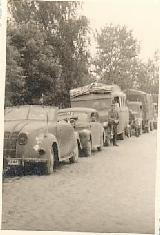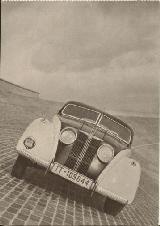 Adler Typ 10 "Stromform" ("Autobahn")

(data for 4-door Limousine)
Years of production: 1937-1940
Overall production: 5295 units
Front motor rear wheel drive car platform-frame car.
Body types:
4-door 6-light Limousine by Ambi-Budd Presswerke (Berlin),
2-door 4-light Cabriolet by Karmann (Osnabrück),
2-door 4-light Sport Limousine by Buhne (Berlin).
Length: 4600mm, width: 1710mm, height: 1640mm
Wheelbase: 2800mm
Road clearance: 210mm
Front wheel track: 1400mm
Rear track: 1400mm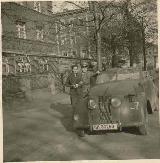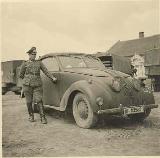 Turning radius (by front outer wheel): 6,0 m
Engine:
58hp/3800rpm, carburetter, straight 6-cyl. 4-stroke SV, 2494cc
Bore/Stroke: 71/105 mm
Compression ratio: 6,25 : 1
Pistons type and material: MEC-St-280, aluminium alloy
Clearances between pushrod and valve stem:
input - 0,20 mm, exhaust - 0,20 mm
Fuel pump
Carburetters: two (later models - three) Solex 30BFH
Dimensions (in mm and conditional units):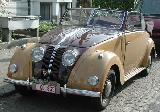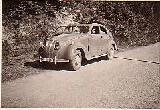 diffusor - 24mm (front carburetter), 22mm (rear carburetter);
main jet - 115/51 cu (front carburetter), 120/51 cu (rear carburetter);
idling jet - 0,35 mm (front carburetter), 0,45 mm (rear carburetter)
Battery: Bosch, 12 Volt, 44 Ah, negative pole connected to the body.
Generator model and power: RJC 130/12; 130 W
Starter model and power: BJC 0,8/12; 0,8 W
Interrupter-distributor model: VE6BS-212;
contact clearance: 0,4 - 0,5 mm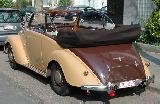 Spark plugs model ans size: W175-TI; 14mm;
electrode clearance: 0,6 mm
Cylinder firing order: 1-5-3-6-2-4
Clutch: dry single plate
Clutch pedal free run: 25-30mm
Gearbox: Adler, 4 forward + 1 back (synchronized II, III and IV)
Ratios: I - 4,15; II - 2,26; III - 1,52; IV - 1,00, back - 5,99
Rear axle ratio: 3,73, bevel gear with spiral tooth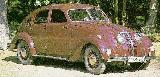 Front suspension: independent, on transversal leaf springs,
toe-in: 0 +/- 1,5 mm; camber: 1o45' +/- 15'; caster: 0 +/- 0,3 mm
Rear suspension: independent, on transversal leaf springs
Double-action hydraulic dampers of all wheels
Hydraulic brakes of all wheels
Hand brakes: mecanical, on rear wheels
Weight (ready to run): 1310 kg
Loads: front axle - 810 kg, rear axle - 1060 kg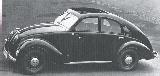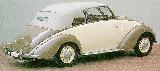 Maximal speed: 125 km/h (highway)
Tyres size: 6,00-16 inches
Tyre pressures (atmospheres): front - 1,3, rear - 2,2
Central oiling system Vogel
Fuel tank capacity: 58+8 Ltr.
Petrol consumption: 12-13 Ltr./100km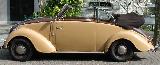 Cooling system capacity: 11,50 Ltr.
Oil carters capacities:
engine - 8,00 Ltr., gearbox - 2,00 Ltr., rear axle - 1,75 Ltr.
Price: ?

Photos and data are from:


J.A.Halfan "Opisanije konstrukcii avtomobilei inostrannyh marok", Moskva, 1948.
eBay Deutschland.
Books by Werner Oswald.
"A-Z of Cars of the 1930s" by Michael Sedgwick & Mark Gillies, Bay View Books Ltd.
Igor Guzienko (Kiev).
"Die Chronik des Automobils", Hans-Otto Neubauer.
These color pictures of 1938 Adler Autoban Karmann Cabriolet are courtesy from the owner - Christophe (Antwerp, Belgium).
---
Entrance   Gallery   Cars   Adler   Sale   Links
---
Last updated 31 V 2010. Andrei Bogomolov. Contact Information.