Oldtimer picture gallery. Motorcycles. 1946-1954 Jawa 250 "Perak".
---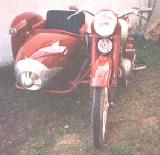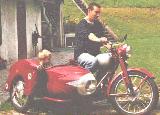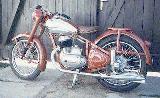 Jawa 250/10, 250/11 (1946 - 1954)


Years of production: 1946 - 1954
Overall production: about 180.000 units including 350cc Jawa motorcycles (Ogar?)
Engine: 9hp/4250rpm, 1-cyl 2-stroke, 248,5cc
Bore/Stroke: 65/75 mm
Pistons without deflector
Length: 2000mm, width: 700mm, height: 950mm
Wheelbase: 1330mm
Dinamo-battery ignition 45W, 6V
Gearbox: 4 speed, foot-controlled, in one block with engine
Tube frame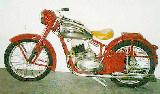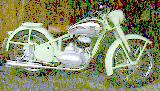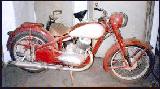 Shock-absorbers on both wheels
Weight: 115 kg
Maximal speed: 100 km/h
Tyres: 3,00x19 inches
Fuel tank capacity: 12 L (13 L by another source)
Fuel consumption: 2,5-3 L/100km
This model was in the middle of attention on 1946 Paris international exhibition, and was rewarded with gold medal. Jawa 250 was
very successful both in customer's demand and in sport.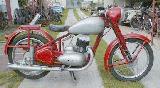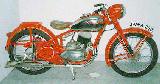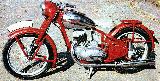 During German occupation Jawa plant
produced ammunition and parts for
aviation. Civilian production was prohibited.
Nevertheless Czechoslovakian engineers
created new Jawa on the branch-plant
working for Wehrmacht motorcycles
repair. Till 1944 20 Jawas run through all road tests, some bikes run more than 100000 km. All Jawas carried German
makes label.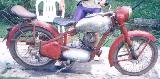 Jawa on big 77k picture here is owned by F. Menclik from Ricany, Czechoslovakia.
Photos and data are from:
"Svet Motoru" magazine, Czechoslovakia,
"Moto" magazine, Russia,
Miroslav Jana, Prague,
Kruse International,
Robert Baumann, Austria, Robert is owner of this March 1953 Jawa on the pictures (homepage),
Veteran Bazar & Museum, Czech Republic,
Association of Collectors of Historical Vehicles in Slovak Republik,
Motorrad Markt magazine, Germany,
"Motorrad classic", Germany,
Leif-Erik Jordan, Norway. Leif-Erik is owner of pictured 1954 Jawa 250/11.
One of the pictured motorcycles belongs to "lafur Th "lafsson (Iceland).
---
Who can tell anything about this Duna sidecar with 1953 Jawa of Robert Baumann? Please tell to Robert and to me.
---
If you have anything to add, ask or correct me, you are welcome to write me by E-mail Contact. Andrei Bogomolov.
---
Entrance   Gallery   Motorcycles   Jawa   Sale   Links
---
Last updated 13 IV 2002.