Oldtimer picture gallery. Trucks. Renault AGK.
---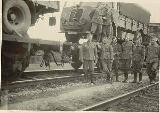 Renault AGK



Years of production: 1937 - 1939 or 1940
Overall production: ? units
4x2 frontmotor rear wheeldrive 6-ton cab over engine truck
Engine: "Renault 441", 85hp/?rpm, straight 4-cyl. petrol SV, 5841cc
Bore/Stroke: ?/? inches
Compression ratio: ? : 1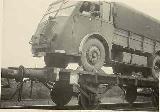 Length: 7330mm; width: 2400mm; height (cab): 2650mm
Wheelbase: 4000mm
Road clearance: ?
Electrics: ? Volt
Carburetter: ?
Gearbox: 4 forward + 1 back
Clutch: ?
Suspension: leaf springs
Mechanical brakes with servo assistance
Weight: approximately 4500 kg
Maximal speed: ? km/h
Tyres: 270x24 inches
Fuel tank capacity: ? Ltr.
Fuel consumption: ? Ltr./100km

Photos and data are from:
Bart Vanderveen's book "Historic Military Vehicles Directory", An After the Battle publication, 1989,
eBay Deutschland.
Thanks for help to Jan Szatan, Poland (homepage).
---
Gallery   Trucks   Renault   Sale   Links
---
Last updated 4 III 2003. Andrei Bogomolov. Contact information.