Oldtimer picture gallery. Trucks. Diamond T 969 (A, B).
---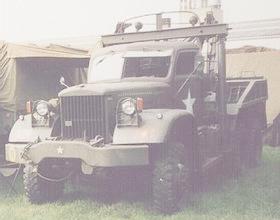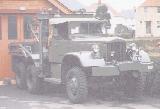 Diamond T 969, 969A, 969B


(Data for model 969A)
Year of production: ?-1941-1944-?
Overall production: ? units
(31245 of all models 968, 969, 970, 972, 975)
6x6 frontmotor army 4-ton heavy wrecker (Holmes W45 twin-boom)
Engine: Hercules RXC, 106hp(gross - 131hp)/2300rpm, straight 6-cylinder petrol SV liquid cooled, 529 cid (8,6 Ltr.)
Bore/Stroke: ?/? inches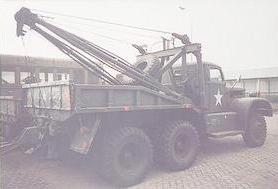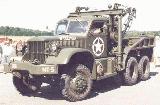 Compression ratio: ? : 1
Length: 7,39 m (268 in), width: 2,51 m (96 in), height: 2,94 m (118 in)
Wheelbase: 151+52 in.
Road clearance: 11 in.
6 Volt electrics (12 Volt starting)
Carburettor: ?
Gearbox: 5-speed + back (with overdrive top speed)
2-speed transfer box with front axle declutch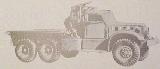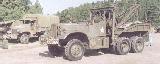 Clutch: dry plate
Suspension: semi-elliptic leaf sprngs, inverted at rear
Air brakes
Weight: 9300 kg (17500 lb, gross (on roads) - 34500 lb)
Maximal speed: 65 km/h
Tyres: 9,00x20 inches
Fuel tank capacity: 227 Ltr.
Fuel consumption: tank capacity is enough for 265km
7,5-ton winch
This vehicle main purpose was to recover broken tanks from battle field.
Early Diamond T 969 were hard-top, beginning from 1943 most of them were soft-top versions.

Photos and data are from (thanks a lot to these people!):
Militär Fordons Historiska Föreningen, Sweden,
Bart Vanderveen's book "Historic Military Vehicles Directory", An After the Battle publication, 1989,
Pat De Moss (Kokomo, Indiana, USA),
Mobile.de,
Military Vehicles Sales & Appraisal Service,
"US Army Vehicles of WW2" by Boniface & Jeudy - Haynes.
---
You are welcome to write me by E-mail Contact. Andrei Bogomolov.
---
Gallery   Trucks   Diamond T   Sale   Links
---
Last updated 21 III 2002.