Oldtimer picture gallery. Trucks. Dodge T202.
Oldtimer picture gallery. Cars. Dodge T202.
---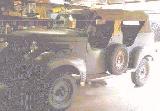 Dodge T202 (VC1 ... VC6)



Year of production: 1940
Overall production: 4640 units (VC1 - 2129, VC5 - 1607, VC3 - 816, VC2 - 60, VC6 - 24, VC4 - 4)
4x4 allwheeldrive frontmotor 0,5-ton car or truck, based on 1940 1-ton 4x2 Dodge truck
Note: additional 1175 Dodge VC3 (T207 WC1) and 7 Dodge VC2 (T207 WC8), some(?) were supplied to Argentina.
(These vehicles are related to Dodge T207 overall production)
Body modifications: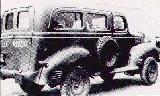 VC1, Command Reconnaissance, body by Budd
VC2, Command Radio (similar in appearance to VC1)
VC3, Closed Cab Pickup
VC4, Closed Cab Pickup without troop seats
VC5, Open Cab Pickup
VC6, Carryall
Engine: own T202 79hp/3000rpm, Straight 6 - cyl SV, 201,3 cid
(T202 with T207 engine - own T207 85hp/?rpm, Straight 6 - cyl SV, 218 cid)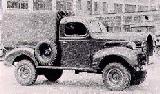 Bore/Stroke: ?/? inches
Compression ratio: ? : 1
(VC1) Length: 188 in, width: 74 in, height: 88 in (4775 x 1880 x 2235 mm)
Wheelbase: 116 inches (2946mm)
Road clearance: 9 in (229mm)
6 Volt electrics
Carburettor: ?
Gearbox: 4 speed + back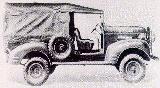 Single speed transfer box with front axle disconnect
Clutch: dry plate
Hydraulic brakes
Rigid axles with semi-elliptic leaf springs
Axle gear ratio: 4,89 : 1
Weight: 4275 lb (1939 kg); gross weight: 5220 lb (2368 kg)
Maximal speed: ? km/h
Tyres: 7,50x16 inches
Fuel tank capacity: 16 gallon
Fuel consumption: ? L/100km
Price: less than 800 US $ apiece, VC1 cost 945 US $
Model Identification and Specification Chart (74kByte).
Contracts, registration and other information table (50kByte).
Photos and data are from (thanks a lot to these people!):
Bart Vanderveen's book "Historic Military Vehicles Directory", An After the Battle publication, 1989,
Jan Szatan, Poland (homepage),
Pat De Moss (Kokomo, Indiana, USA),
Military Vehicles Sales & Appraisal Service,
"US Army Vehicles of WW2" by Boniface & Jeudy - Haynes.
---
You are welcome to write me by E-mail Contact. Andrei Bogomolov.
---
Gallery   Trucks   Cars   Dodge trucks   Dodge cars   Dodge T207, T211, T215   Sale   Links
---
Last updated 26 V 2001.